Fixed Deposits (FDs) have been a part of every Indian household for decades now. The present times, however, are witnessing a slump in FDs with a marked transition toward debt mutual funds. This is happening because debt funds bypass this aversion towards mutual funds, creating a niche for individuals looking to mobilize their corporate without the risk connotation of MFs.
According to market study below we have a detailed comparison between debt fund and fixed deposit and which one is better for you.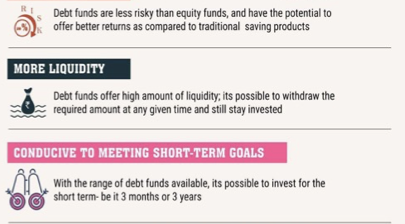 In this case study, let's explore why debt mutual funds are better than fixed deposits. While both offer fixed returns and are relatively risk-free, especially when compared to equity investments, there are significant differences between the two.
Below, we have taken the same principal amount of Rs.100 invested in both debts and fixed deposit for 5 years. But when we see the net gain realized by FD's and debt funds, there's a drastic difference. After 5 years, post-tax returns are 7.15% in Debt and 5.6 % in FD. This difference is due to indexation and taxation benefits that debt funds provide which FD doesn't.
BENEFITS OF DEBT FUND
INDEXATION BENIFTS
COMPOUNDING BEIFITS
CAPITAL GAIN NON- EQUITY- 20%